CONSTRUCTION OF THE NEW CHURCH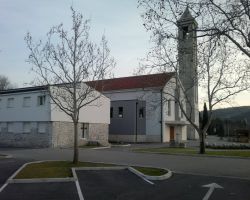 The construction of the new parish church at the 10th km of the main road M-17 from Mostar direction towards Čapljina, where Buna enters Neretva river, started in February 2005, and was roofed before Christmas of the same year. The new church was built next to the Pastoral Center of Bl. Alojzije Stepinac, and it is now the seat of the parish of Holy Trinity Blagaj –Buna.
By the end of the October 2009 we moved from the Pastoral center premises into the new church and started with regular celebration of daily and Sunday holy masses in the unfinished church. We plan and work on its finishing, as well as with the landscaping (ground floor of the church depending on the abilities of the parishioners and good doers).